You Are What You Eat
I have been shucked! I shudder, clutchin
the dried up thins of my husk. Crunches.
Cue horns, slow & croonin. Snake rattles.
Enter Tallbooted Stranger, furrier & more
fullmooned than I ever knew. Shot me
from behind. The backs of my knees fold
like paper cranes & warm colors bleed
over my eyes. Think Rothko. Think
Valentine's Day Massakree. Hat falls
over my face & bangs cling to my hot brow
like paint & bang! rings in my ear, the whole
hollow desert to hear. Bull's-eye. So ends
the dry spell. Tallboots blows smoke, says,
I got ya. He asks what I'm doin Tuesday. Nothin,
says I, & lick his spurs. He's a wolf. A man
of Marlboro & Texas toast, grit & bones.
A smirk like every goddam marshmallow
floatin in a bowl of milk. When he turns,
I draw. Reach for the skyline, says I.
Do you know who I am. I'd never seen
cahonays like those since godnose.
& for the record, okay, I never cried.
Heels in the dust, waitin done did,
I'm the mutherfuckin comeback kid.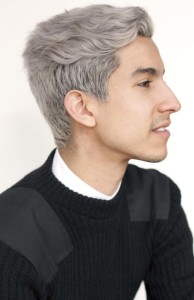 Fran Tirado is a writer and editor at Hello Mr. living in Brooklyn. Follow his tweets and pretty pictures @fransquishco.
(Visited 274 times, 1 visits today)