My Father's Addiction Comes to Me in a Dream Again
Nurses are typically women: what I think
when the goatee wants to take my blood.
The tourniquet above my elbow is yellow,
rubber, elastic, stretch.
The goatee is my father.
I had forgotten.
He purchased the syringe from a Swarovski
catalogue, the needle from the Grimm
brothers' pile of hay. How strange
crystal and blood look in hospital light,
how strange when they throw pink
triangles to splice my father's mouth, his face.
Daddy's crystal took my blood: what I think.
The goatee moves
because it is going to speak. It makes
a sound that shatters the syringe—
needle still hanging from my blue vein.
I had forgotten.
BDSM at the Lake House
Skies flare like matches when I strangle swans.
Beneath my wringing fingers, they death squawk
into oranging horizon. I recall the cocks I wrapped
my lips around, stiff as swan spines rubbed
on my tongue. Squeezed, they limp in my mouth,
their necks' white feathers smoothed down.
When they die, they die exhausted.
I string them up in braided cords, hang them
on splintery beams—chandeliers that spin light
to the walls like the fast flung webs of black spiders.
I hunt them, the swans, stalk-straddle them
into submission. They thrash and gasp for my throat—
my esophageal vice grip. I swallow their last breaths.
When we die, we die exhausted.
The Family Tree is Not Aquatic
Many things prove hereditary and I can list them: Coarse, dark hair. Diabetes. Heroin addiction. Adultery. A fear of both fresh water and salt water. And just imagine how each is identified: tweezers, artificial sugars, glinting syringes, wet lovers, my father leaving me to be rescued by life-guards donning red, while he watched me be towed, out, and out, and out.
And after all that I wanted to beat my genetics so I took my money and bought a one-piece made of Bluefin fish scales and gold leaf, which weighs heavy and sinks fast, but I would've worn floaties for the first few weeks anyway. I dressed and it held me tightly; it wasn't going to let a thing spill from me, and in that way,
I was a fish before swimming; My gills were ready for the water that I never had a chance to taste because the pool house burnt the day I decided to learn to swim, the day of my first lesson. It burnt up and billowed curdled plastic, all those lane dividers browned like marshmallows over the type of fire I was taught to start.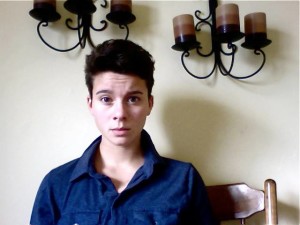 Kayleb Rae Candrilli is an associate editor for NANO Fiction and the non-fiction editor of the Black Warrior Review. Kayleb's work is published or forthcoming in Rattle, Puerto del Sol, Booth, CutBank, Muzzle, Cold Mountain Review, and others. You can read more of their work here.
(Visited 754 times, 2 visits today)