Lessons in Microaggression
I.
He whistles the punchline through thorn-sharp teeth:
"Shadrach, Meshach, and a Bad Negro."
Just as "girl"
always means (white) girl
"negro" always means (bad) negro
II.
She has never eaten Girl Scout cookies,
or listened to A Tribe Called Quest.
I bring her a box of Samoas and
People's Instinctive Travels and the Paths of Rhythm
on vinyl.
We smoke dope from a bowl named Gladys.
She has always preferred old lady names:
Laverne             Blanche                Mildred.
"Can I Kick It?" comes on and she says,
"I know this one."
I explain to her that this is called a sample.
She begins to sing "Walk on the Wild Side,"
doing her best Lou Reed impression.
And the colored girls go doo doodoodoodoo doo doo doo
The only part she knows the words to.
III.
At karaoke, the (white) people change that word to "ninja."
I wonder if they show this same courtesy at concerts,
or when singing along in the car. When the radio plays
the clean version, I hear one faint voice say, "nigga."
This is The Breakfast Club on cable.
When they say, "flip you," I laugh.
I dub the word "fuck" with my own voice.
This is not The Breakfast Club on cable.
Black people exist in this world.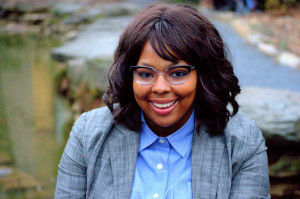 Lauren Yates
is a Pushcart-nominated poet who is currently based in Philadelphia. Her writing has appeared in Nerve, XOJane, FRiGG, Umbrella Factory, Softblow, and Melusine. Lauren is also a poetry editor at Kinfolks Quarterly and a member of The Mission Statement poetry collective. She is currently a Poet in Residence with the Leonard Pearlstein Gallery at Drexel University. Aside from poetry, Lauren enjoys belly dancing, baking quiche, and pontificating on the merits of tentacle erotica. For more information, visit here.
(Visited 310 times, 1 visits today)