Dick Pics
Beautiful I said but didn't mean it
of course I didn't it had a huge pink flange at the top like a flopping squid
and lay against his belly
Mother Nature was good to me he texted as a note of enticement
which was more like a turnoff don't do that stupid feminizing of nature, dude
I don't give a fuck about the size of your dick of course I do.
Stop sending your stock pix. I want something special. Just for me.
And when I sent him the shot of my vulva with my shitty phone
Beautiful he wrote Like the petals of a flower
Hmm, I'm not sure I've heard that before.
And I came, magic wand at my clit, you pinning my arms down over text.
And when in real life I sucked your dick on the first and only date
I swallowed your cum it actually tasted good
kind of like nothing
but you didn't try very hard did you
to make sure I came, mechanistically crooking your finger
while licking me, me hanging my head off your mattress saying, Oh god.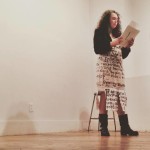 Becca Shaw Glaser is co-editor and author of Mindful Occupation: Rising Up Without Burning Out. Her writing has also appeared in Mad in America, Black Clock, H.O.W., Two Serious Ladies, Birdfeast, The Laurel Review, Quaint, and Lemon Hound, among other publications.
(Visited 458 times, 1 visits today)