On the Etymology of a Negro Spiritual
– If you say someone's engaged in 'kumbaya,' you're saying that
person isn't serious, it's designed to disempower someone who's
trying to do something. Thomas S. De Luca, NY Times, 2010
–How could we sing the Lord's song in a foreign land? If I forget you,
O Jerusalem, let my right hand wither! Psalm 137

And here I am again
asking myself how
a Negro spiritual
about liberation
came to be a term for
naïve hopefulness
or
for holding the hand
that beats you
through whatever torture
they decide is coming
next
and even though I know
the answer to this question,
sometimes asking
rhetorically
helps me feel better
or more
peaceful
or more
like a quaint smile
at the use of the word to mean
a foolish compromise
even knowing always, as I have
that kumbaya
is
a mistranslation of come by here
is not
an invitation for frivolous peace talks
but an invocation
to the Lord
or whichever Gods
with changed names
we had and hid
for protection
for salvation.
…
What happens when you hide
your language in another tongue
'cause you want to keep it from dying
but you realize too late that
staying alive and living
ain't the same thing
and they catch it anyway;
take the words from your mouth
and call it
a mixed blessing
call it
bipartisan
call it
poor, peace loving liberal speech
call us
stupid Negros
still waiting' on a chariot
ain't even bother to ask
whose hand
is whipping the horse ?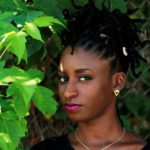 Breauna L. Roach is a native of Detroit, MI and a recipient of the Gwendolyn Brooks Writers Association's Poetry Prize. Her work has appeared in the Detroit Institute of Art, Little Patuxent Review, The New Sound, and various other publications. She is a proud Alumna of Florida A&M University, and has received fellowships from Callaloo and Cave Canem. Breauna is the former Editor of CaKe: a Journal of Poetry and Art and is currently a Graduate Writing Instructor and MFA candidate at Emerson College.
(Visited 330 times, 1 visits today)