Nostalgia: the East Side – HiFi
It took me a moment
to realize that the tingle on my lips
wasn't lip gloss
that night I kissed my friend good-night.
The naïveté.
Their bright eyes,
Enthusiasm,
Energy.
The Christmas in July party,
the slick slip & slide journey to
the fence, borrowed blue short shorts
echoed on all their bare male legs.
Snow smudges on their faces.
A make-shift photo booth, twos and
threes and fours, together, fingers and
mouths and smiles, captured.
Caught.
From the balcony, the neon US Bank lighting
the skyline,
obscuring the view. My view
obscured.
Packing to move,
I found a rolled up five
on the shelf above the toilet.
Dusted Dirty.
Nostalgia: the East Side – Mount Washington
Jordan and James on the roof in Silverlake
high
floods my memory
as I get the call.
Jory has OD'd
Is in the hospital
On life support
Organs failing
Panic
Panic.
On our bed, he's not concerned, says this is what a heroin over dose looks like. Like death. But he'll come back.
But he didn't.
Let me my sadness
resting on my elbow.
Her hardest hue.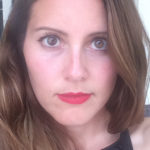 Tarra Stevenson teaches at an all girl's school by day, inner-city college by night, where she encourages her students to break all the rules of grammar. She is also working on her MFA at UC Riverside's Palm Desert program.
(Visited 454 times, 2 visits today)