We are trying to survive our time so we may live into yours
We said hello thirty-three ways. We showed you the stars around us.
We laughed. We gave coordinates, broke ourselves down
to our fundamental parts. We showed you what we looked like
before we were born. We showed you our neighborhood, our home.
We didn't show you where we were broken on purpose: we sent the sea.
We sent our weddings, a choir of voices, our brainwaves
strung with messages. We sent bells and drums and trumpets.
We worked. We were selective—we left a lot out of the picture.
We sent the blues, our nights, our sadness—an accident.
We sent ourselves, naked. The sound of our blood
beating through us. The sound of us breathing in between words.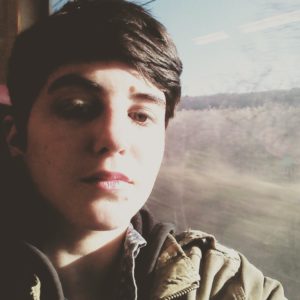 Sophia Holtz is a writer, performer, and sometimes-illustrator. She has featured in bars, colleges, and the occasional basement throughout the United States. Her work has appeared in decomP, H_NGM_N, glitterMOB, and other journals. She received her BA from Hampshire College, and is a Goldwater Writing Fellow at the NYU MFA program. Find her at sophiaholtz.com.
(Visited 290 times, 1 visits today)