Better Self
I have a matchless twin who is a rascal half the time. Meanwhile I am always vile—
try to either strangle her or Xerox her entire. But we are cling wrap doubled so we
cannot come apart. The kind of sticky duo where no one knows who is who, or
even that we are a two—my mole is her beauty mark; my safe lock, her treasure box;
where I am bones, she's ballerina-carriage through the slush. She gets the job, leaves
me to quit; wraps hostess gifts, gifts me the broom; fast-flirts, knows I'll refuse.
Hypnotizing with her grace, she vows there is no other face, no undermining side.
And yet I am alive and lying through another day. I know that she is tougher, never
takes her jam with toast. And that we both are scarred the same: chicken pox, reef
coral's cut, the last time we were touched. Labyrinthine is her need for laying on of
hands. They have a touch; her strike is light as light through iron-stained glass. Hints
that if I wanted, I could hurt benign as she. You are impossible, she says, in every possible
case. Easy for her to say, I think; I cannot hang a calendar without her shadow-
boxing. We spar, I further disbelieve the wings she says we're wearing. Even when I
pray I'm mainly mouthing dear, dear, please. Early in our crusted town, she sprints
home holding hot croissants tucked beneath her arm. In butter spotted bags. Always
kissing new things out, half-telling me about them. Now she folds the paper sack,
cockling the whole house. I don't know if I can finish our life, or get out of this. A
trail of steam pulls itself up, past the brass teapot. You are an accountable person, she
tells me, and casual-sips my cup.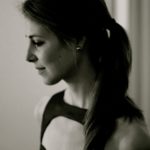 Cate Lycurgus's poetry has appeared or is forthcoming in American Poetry Review, Third Coast, Gulf Coast Online, and elsewhere. A 2014 Ruth Lilly Fellowship Finalist, she has also received scholarships from Bread Loaf and Sewanee Writers' Conferences and been featured as one of the 30 Under 30 writers for Narrative. Cate currently lives south of San Francisco, California, where she edits interviews for 32 Poems and teaches professional writing to aspiring accountants.
(Visited 565 times, 1 visits today)