Falling Out Our Father's Mouth
Of course it's in part a good thing.
There's hardly any room.
Everything inside it is a weapon.
It's hot. Cramped. We sit
in its open sores and look outward.
At night, his mouth eats, it talks
and leaves us out of it, hangs open
for the salty rims of glasses,
their liquid contents, the pull and sigh
of smoke. His tongue strains, meeting
the pink point of foreign tongues
as if in a blind slither to nowhere
while us boys dodge them both.
In the corner, we listen to the smack
of lips, watch both junctures peel,
part and join again on the bed,
mouth wide open to the ceiling
before folds of brown and pink
flesh eclipse us. We hold on tightly
as everything unsteadies. The stars
in the sky shrink, planets shift
and this cave we've entered in
after him starts to sour again.
Those vapors he takes in over us.
We've come so far for our father
but where are we? The only name
spoken is his own.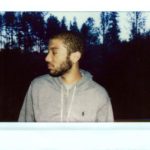 Dustin Pearson is an MFA candidate at Arizona State University, where he also serves as the editor of Hayden's Ferry Review. He was awarded the 2015 Katharine C. Turner Prize from the Academy of American Poets for his poem "The Black Body Auditions for a Play." He is the recipient of fellowships from the Watering Hole, Cave Canem, and the Virginia G. Piper Center for Creative Writing. Born in Charleston, he is from Summerville, SC.
(Visited 382 times, 1 visits today)