Schomburgk's Deer
Where do dream & dreamer end?
You were mercurial as cloud shadow,
laurelled as if candelabras sprouted
from your velvet head, meandering
the bamboo swamp plains.
Who believes this flimsy reality?
Flat soda on the nightsand—I mean
nightstand—like a glass of black milk.
Do you know why you are here asked
the residual voice but I mistook
the faraway question as somniloquy.
Some days I leave the house
& before the door clicks shut behind me
I've forgotten why
I exist. To be connected
as dark energy to space, to eat cheese
& suck on icicles, is that it?
Wildflowers thrive without
fertilizers, herbicides, pesticides or watering
at brinks & along the edges yet I manage
to ruin them, to strip
them into subatomic particles.
Remember when I cared not an iota
what swam behind your frontal bone?
That was before I imagined you,
deary, conjured me.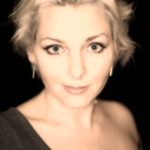 Flower Conroy is the author of three chapbooks: Facts About Snakes & Hearts, winner of Heavy Feather Press' Chapbook Contest; The Awful Suicidal Swans; and Escape to Nowhere. She is the winner of Radar Poetry's first annual Coniston Prize and the Tennessee Williams Exhibit Poetry Contest, as well as a scholarship recipient of Bread Loaf, Squaw Valley, Napa Valley, and the Key West Literary Seminar. She is poetry editor at sourland mountain review. Her poetry has appeared/is forthcoming in American Literary Review, Prairie Schooner, Gargoyle and others.
(Visited 152 times, 1 visits today)