Heavy Bonnet
Certain odd little thrills: Speaking to the man behind the counter in between hiccups. Seized with the fleeting sudden thought, "I will move to the Florida Keys and grow my hair!"
*
What percentage of people are psychic on the subway? Are they concerned about me?
*
Looking back through this notebook, I see notations about exercising my "subtle body"; what a falcon signifies; a Russian ice dancing pair and their program on the theme of madness; the emotional toll taken by a very cold January and a very cold February.
*
A woman who leaves her mouth open at the end of sentences stands in front of my table talking on her cell phone. She is saying, "Everyone's all like 'salted caramel,' like a sweet & savory thing." Thing-uh.
*
A page that lists points on my plan. The first item of the plan: Get a lucky break.
*
A gentle psychic gesture toward marveling.

A Bridge Too Far
There are some things you can correct
by force of will, like being pigeon-toed
or eating an apple from the top of the core,
seeds & all. Other things are history.
People all over are walking around
thinking whatever thoughts they want
about you, and some of these thoughts
and people seem a little irritated
with you about the decisions you made
earlier today. How do they know?
The woman on the subway doesn't like
how you were short with your partner
before you left the house, nor does her little boy
care for what you chose to do with coconut oil
in the shower. The whole city could play
itself like a theremin for all you care.

A Sort of Crackling
I'm back where I began, at the source of my power,
causing the hair to lift from my head and start crackling
and my voice to become audible only to those who have
second sight. I could tell you about how the moon sits
there in the mist just staring or about the spring legs
of girls I no longer am. I could say how I enjoy the sound
of a train as I am falling asleep, as my grandmother did
before me. Or still does, actually. Last night was the same
old lost on my travels gene. I mean dream. I am thinking
of applying to leave this place, but I am also thinking of staying.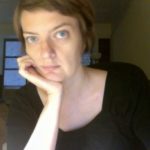 Joanna Penn Cooper, poet and essayist, is the author of The Itinerant Girl's Guide to Self-Hypnosis (Brooklyn Arts Press, 2014) and What Is a Domicile (Noctuary Press, 2014). She lives in Durham, NC. More information can be found at joannapenncooper.net.
(Visited 133 times, 1 visits today)