Promenade
Ill of you,
the horses in my groin,
troubled,
cut my breath,
weld me.
A low octave, serious,
serious music theory,
serious, serious,
deaf also,
on snow.
The horses drown in clay
and when they fall they neigh
my whole being sags
and gets false.
Oaks,
oak branches,
the leaves of oaks!
Candles
and me,
in the Fall,
I still…
Trample
the gold-colored feather hats
under the legs
of hundreds of blonde bucks.
Two hundred dollar boots,
the sound of heels.
But silent, my cast
damped by humus.
And falls languor.
Leather,
quartz,
bone
and tall pines;
still have them in my pores
when I get home at dawn.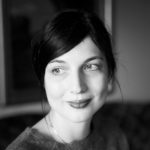 Josianne Barrette has had essays, poems and stories published in French and in English. She is a contributor at À l'essai, Moebius, Matrix Magazine (Canada), water soup, Helen (USA), Les Éditions des Femmes d'à Côté (France) and others. She was a semi-finalist for the CBC Fiction Prizes in the Short Story category and a judge for the Hysteria Writing Competition in the poetry category (U.K.). She is currently working on a short story collection.
(Visited 272 times, 1 visits today)