havenwyck hospital part 2
my tears tighten the noose. she reads from the packet. something about a point system. be good, she says. be good and you'll get vending machine privileges. I have to bring money for candy if I want it. the room is grey and soft as baby food. the nurse closes the curtain. tells me to strip. asks where my scars are. says I'll be here for a few days. nothing to worry about.
my tears the noose. she reads something a point system be good be good and you'll want it. grey and soft close the curtain. strip. here my scars say nothing
the noose reads be good you'll want it. close curtain. strip. say nothing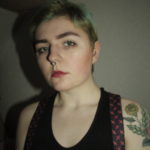 Zaphra Stupple is a poet and multimedia artist living in Michigan. Her work can be found in The Offing and Hermeneutic Chaos, and is forthcoming in HEArt Journal. Her first book There Will Still Be The Body is forthcoming from Red Beard Press.
(Visited 250 times, 1 visits today)