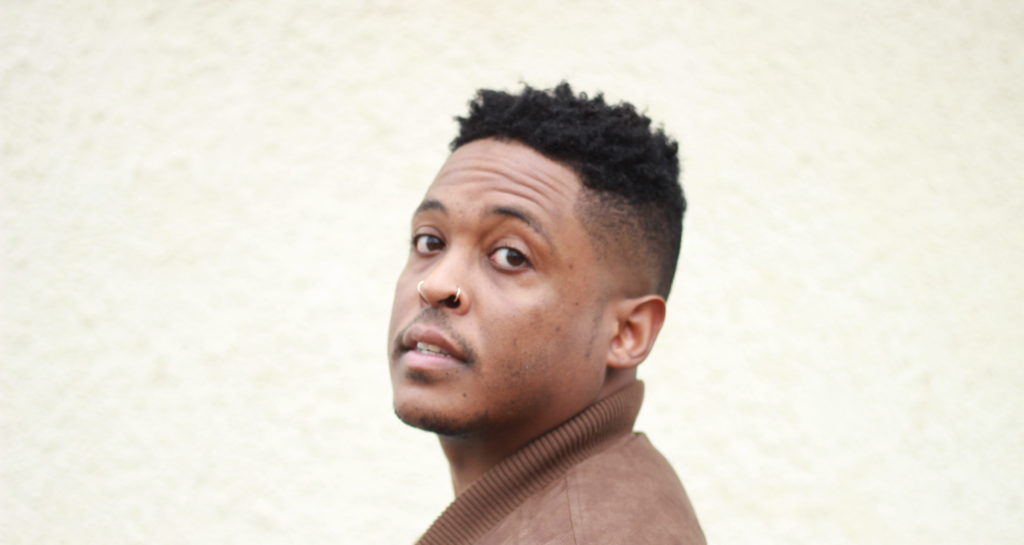 Danez Smith is a Black, queer, poz writer, and performer from St. Paul, MN. Danez is the author of Don't Call Us Dead (Graywolf Press, 2017) and [insert] boy (YesYes Books, 2014), winner of the Kate Tufts Discovery Award and the Lambda Literary Award for Gay Poetry. They are the recipient of fellowships from the Poetry Foundation, the McKnight Foundation, and is a 2017 National Endowment for the Arts Fellow. Danez's work has been featured widely including in/on Buzzfeed, The New York Times, PBS NewsHour, Best American Poetry, Poetry Magazine, and The Late Show with Stephen Colbert. Danez is a member of the Dark Noise Collective and is the co-host of VS with Franny Choi, a podcast sponsored by the Poetry Foundation and Postloudness. Find more at www.danezsmithpoet.com.

recklessly
for Michael Johnson
the bloodprison leads to prison
jail doubles as quarantine
chest to chest, men are silent
you're under arrest, under a spell
are you on treatment? PrEP? (wats dat?)
venom:sin:snake:cocksize
i got the cellblock blues
the diagnosis is judgment enough
you got the suga? the clap? the mumps?
i say mercy, danger & white boys hear what they want
it was summer & everyone wanted to be in love
i been drankin, I been drankin
i just wanna dance with somebody
it could all be so simple
but you don't know my name
don't ask. don't tell
many stories about queerness are about shame
…shall not lie (with mankind)…
i got the cell count blues
inside a cell: a man/inside his cells: a man
can you keep a secret?
a history of blood: from sacrament to sentence
the red the white the blue of my veins

//

singing recklessly out of a boy's/throat, driving recklessly with boy/hands, lay my mouth on a man/as you lay a boy/into bed/ruin a boy like a boy/running recklessly/in the rain in Easter white/as boys do/eating recklessly with a boy's/hunger, praising recklessly whatever was near/knelling/recklessly with a boy's knees/in front of convenient gods/when morning came & still i was/recklessly a boy's throat/until he was done & everywhere on my body was a boy's throat/yes, i was his if only once/& i was his/as well & i was/everywhere, like a god/or a virus & i was everything/required of me & i was anything/but tame/& so, so long from then/i stand in the deepest part of night/singing recklessly, calling/what must feast/ to feast.

//

– a love story –
he came/over
& then he left
but he stayed

//

as smoke from the lips
cycles into the nose
as the car filled with bass
niggas & smoke smokes your hair
as the car rolls into his garage
as you become a kind of garage
as the skin breaks as the skin do
as salt overwhelms
your simple palate as you sing
salt devotion as salt
gives way to salt as you are
a body boiled down to desire
as a noun, as to say desire
all over my face or say desire
coming down my leg
or desire feels cold
which lets you know
desire was warm recently
shot from inside a body
into a body, strange
little birth, happy death
ritual, sweet lord
i've seen thy wrath
& it taste like sugar
lay thy merciful hand
around my neck

//

it's not a death sentence anymore
it's not    death                anymore
it's                                         more
it's       a           sentence
a           sentence

//

i told him what
happened to my body
but all he could hear
was light falling
between my legs
next time a man comes
over, i'll cut the veins
out my arms, arrange them
like cooked spaghetti
on the kitchen table
in the shape of a boy's face
& say here's what happened

//

in our blood
men hold each other
like they'll never let go
then they let go


(Visited 423 times, 1 visits today)