Games and Larks
I was good;
I followed the mock-death estrangements.
I played house with faith
jutting stupid from me,
1,000 days of memory
piped thru brain damage,
a frame of lightning
lost things brush against.
I'd failed the lie. I see that now.
my corpse spins just thinking.
"give'im a million poetics
he'd pick the one kill him again."
they'll slap the bible shut.
buries me inchmeal just thinking.
could only ever self-remember with props.
I think residue suited me.
after I'd sneered the ugliest things I could muster
time veered upwind of me.
the sleep of angels laid nerves
thru Oedipal country.
it all goes in too-quiet phrases
flashed straight to the back of me.

Greenbelt Suite
i. Heidi's Milk and Things
we wasn't lost enough til wheeling in lockwing.
we were trilling a thousand liquidities.
ii. Victory Superette
dry streams and smashed Heineken.
Staten declaimed its emptiness
in chainsawed egress & A/C units,
natives too fat to follow
birds and our shadows.
iii. Close to Home Deli
the ruined orbit of a century:
mosquito larva
in rusted Chryslers,
swampboard skirting
the hum of traffic.
iv. St. Francis Friary
my foot trail event sequence
was crossing eyes for blue X'es,
for deer at waterholes,
NYSDEC's double-images
a co-construction.
v. Shelter #5
these leaf claps
almost tabernacular,
a church
of torn speech.
vi. Pouch Camp
go brisk, isolate!
echo cloud motions,
lostness forgotten.
vii. Lake Ohrbach
I watched the green faces in ponds,
those faces high as mirth
on a split tree.
viii. High Rock
the cry of need outlasts need.
butterflies lapsed
over broken rocks.
ix. Finally Bloodroot Valley
summer in 91 degrees.
ticking off epiphanies,
my feet in a cool stream.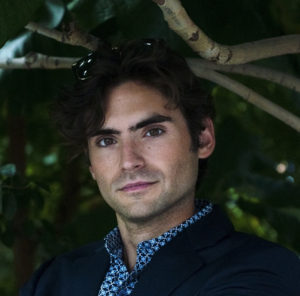 Ian A. Bonaparte's work has appeared or is forthcoming in Prelude, Pelorus Press and Ameriquests. He is an Assistant Agent at Janklow & Nesbit Associates.
(Visited 64 times, 2 visits today)